Ann-Sophie studeerde in 2015 af als osteopaat en heeft, naast algemene osteopathie, een bijzondere interesse in de nek, kaak en halsregio.
Opleidingen en specialisaties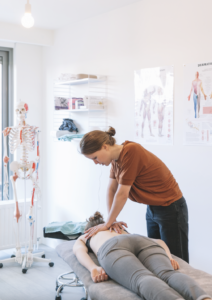 2011-2015 : Diploma in de Osteopathie en Bachelor of Science with honours in de Osteopathic Medicine – The International Academy of Osteopathy (IAO)
2015-2016 : Dysfuncties van het cervico-maxillo-fasciae gebied volgens Alain Piron – Panta Rhei
2018 : Osteopathie bij baby's en kinderen, the essential – Hanne De Ruyck
2019: Osteopathy & vocal problems o.l.v. Jakob Lieberman – Panta Rhei
2020: Medical Taping thv kaak-, nek en halsregio – Fysiograaf
2021: Het plastische brein en pijn volgens Dr. Ben van Cranenburgh – Panta Rhei
2021-2022 : Therapeutische koolhydraatrestrictie binnen de osteopathiepraktijk – Panta Rhei
Verder is Ann-Sophie lid van de Beroepsvereniging van de Belgische osteopaten (BVBO). Jaarlijks volgt zij diverse bijscholingscursussen in het kader van permanente vorming.