Renke is naast teamverantwoordelijke van onze kinderpraktijk ook werkzaam als logopediste. Ze werkt samen met kinderen die spraak-, taal- en leerproblemen hebben. Op een toffe en creatieve manier proberen ze samen hun doel te bereiken!

Opleiding en specialisaties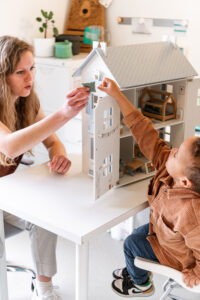 2013 – 2017: Katholieke Universiteit Leuven, Master in de Logopedische en Audiologische Wetenschappen
2018: Basiscursus OroMyoFunctionele Therapie
2018 – 2019: Thomas More, Postgraduaat Meertaligheid
2019: Hanen Certificeringsworkshop Hanencursus® 'Praten doe je met z'n tweeën' (PDMT) –
2019: Spraakontwikkelingsdyspraxie, bekend of gekend?
2020: Hodson & Paden – Onderzoek en behandeling van onverstaanbare kinderen
2021: Project ImPACT – Trainen van sociaal-communicatieve vaardigheden bij kinderen met een autismespectrumstoornis
2020 – 2021: Thomas More, European Clinical Specialization Course on Fluency Disorders (ECSF)
2021: Basiscursus RESTART DCM – Een indirecte behandelwijze voor jonge stotterende kinderen
Daarnaast is Renke ook PEaCH ambassadeur, waar zij het Europees project PEaCH ondersteunt door informatie te verspreiden over het opvoeden van twee- of meertalige kinderen.